Our Student Profile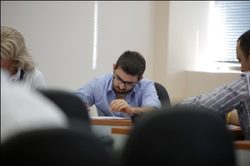 Diverse in their interests backgrounds and nationalities, our students represent a concentrated body of well-rounded promising individuals with potential like few others in the region. Highly skilled, all IHU graduates have gained an impressive breadth of knowledge and tools for practical application based on curricula that meet market needs and are continually revised to stay ahead of the knowledge curve.
Our graduates are well grounded in their chosen discipline and are able to apply effective, creative and innovative solutions, both independently and cooperatively, to their jobs.
You, as the employer, provide the challenge. We will provide the right candidates to meet this challenge!