Book an appointment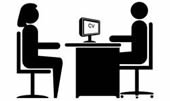 Students and Alumni may schedule appointments for all career development needs. Should you need career advice please book a one-to-one appointment with one of our careers officers to discuss your career options or any other career-related issue.
How can I Book an Appointment?
Send an email to careers@ihu.edu.gr  with your contact details and School, state your request and suggest the time and date that is convenient for you. Appointments last 30 minutes. The Career office will confirm your appointment.
If you cannot attend for any reason, please let us know at least the day before. Out of courtesy to others, we would also ask you to be punctual.
Remember to bring any relevant printed material with you (e.g. CV, Cover Letter).
Example:  My name is John Papadopoulos and I am studying at the School of Science & Technology. I would like to book an appointment in order to discuss my CV. Would it be possible to come on Tuesday, 21st February, at 13:00?