IHU at a Glance
About IHU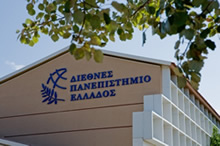 The International Hellenic University (IHU) was established by Law No. 3391 in October 2005 and is based in Thessaloniki, Greece. The IHU is Greece's first state university, where programmes are exclusively taught in English.
Our philosophy is based upon the following three concepts:
Academic excellence
Practical relevance
International outlook  
With backing from the Greek State and the regional business community, the IHU aims to develop as one of Europe's leading research and academic institutions.
It already attracts a strong international academic faculty and outstanding students from Southeast and other European and Black Sea countries.
We draw from, and build upon, the uniqueness of our multicultural student body while preparing students for the challenges of a rapidly changing global society.
Our Mission
IHU's strategic mission is threefold:
Provide research and education that meet the needs of the international community.
Enhance understanding of the economic, socio-political and technological issues facing the societies we serve, through teaching and research of the highest academic standard.
Create an international and diverse student and faculty community to foster greater understanding between cultures and nations.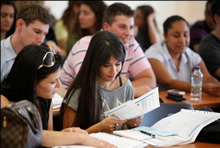 The IHU currently offers sought-after postgraduate degrees in three Schools:
Economics and Business Administration
Humanities
Science and Technology
As a state University, all degrees awarded are accredited by the Government and are recognized in the European Union and internationally.
Schools
Location
The university campus is located close to Thermi on the Thessaloniki - Nea Moudania  highway (14th km).
Visitors are welcome to view the facilities. Appointments can be made to meet staff and be shown around.
University Campus
International Hellenic University
14th km Thessaloniki - Nea Moudania
57001
Thessaloniki
Contact Details
School of Economics and Business Administration
T +30 2310 807528
F +30 2310 474520
E infoseba@ihu.edu.gr
www.econ.ihu.edu.gr
School of Humanities
T +30 2310 807529
F +30 2310 474520
E infosoh@ihu.edu.gr
www.hum.ihu.edu.gr
School of Science and Technology
T +30 2310 807501
F +30 2310 474590
E infotech@ihu.edu.gr
www.tech.ihu.edu.gr
IHU in the Social Media!
Are you a social networking fan?  Do you want to be up to date with the IHU's latest news?
Join our fanpages, post your comments, check our videos and  be part of our online international student community!