Aim of the Career Events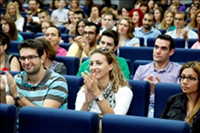 The Careers Office organizes and hosts several career events and workshops throughout the year to help IHU students and Alumni to connect with professionals, gain experience, attain knowledge and discover career opportunities.
The IHU's career events provide the ideal forum for students and alumni to meet with a range of organizations and access vital information for their future career. Career events are always open to all IHU students and Alumni while some are open to members of the wider community and students from other colleges and universities as well. Prior registration is required to attend most of the events.
Get the most out of your experience at the International Hellenic University by attending professional development events and workshops.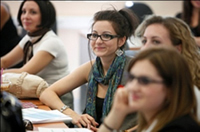 Students and Alumni are strongly encouraged to participate in as many career events as possible. There is significant value added to their professional profile by attending the events organized by the Careers Office.
Each career event is unique and ultimately, by attending these events, students learn more about a variety of occupations related to their scientific field, they explore industries that interest them and they have the chance to network with potential employers/recruiters. Moreover, students gain familiarity with the job market and they are given the opportunity to find an internship or perhaps their next job!