Career Fairs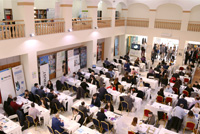 The IHU Career Fair is an annual networking and recruiting event that connects local and international employers with IHU students. The IHU Career Fair is a great opportunity to get information about companies, to learn about a range of possible job or internship openings and to meet prospective employers face to face. During the Career Fair, a large number of potential employers or recruiters are gathered in a central location in order to give potential employees (IHU students and Alumni) information about their companies and any open positions.
 
Students find many reasons for attending a career fair, depending on their job-search cycle:
Networking: One of the key benefits of attending a career fair is to meet new recruiters, other job-seekers, and career professionals. Meeting recruiters helps graduates build useful contacts for future reference.
Learning industry information:
Speaking to recruitment professionals is a great way to learn information about different industry sectors.
Gathering information about companies: Investigating the kind of job openings or work placements that are offered by a company tells us a lot about the organization as a whole.
Internships: Establish contacts to obtain an internship for an upcoming semester or summer.
Gain Experience: When attending a career fair, the opportunity is there to gain valuable experience and effectively practice professional skills, (i.e. communication, interview skills) with recruiters and other future colleagues.