Book an appointment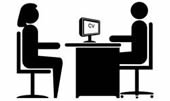 Students and Alumni may schedule appointments for all career development needs. Should you need career advice please book a one-to-one appointment to discuss your career options or any other career-related issue.
How can I Book an Appointment?
Please click here to visit the online calendar in order to pick the time and date that is convenient for you. Appointments last 30 minutes. You may use additional slots in case you need more time.
If you cannot attend for any reason, please use the calendar to unbook at least the day before. Out of courtesy to others, we would also ask you to be punctual.